From the Shelf
Xtravaganza Realness
Earlier this year, in our Reading with... Juli Delgado Lopera, the author of the novel Fiebre Tropical (Amethyst Editions, $17.95) mentioned as a favorite book Joseph Cassara's The House of Impossible Beauties (Ecco, $16.99). Lopera said, "The writing in that book is so delicious, I literally wanted to eat it up." Having heard only good things about it, I needed no more prodding.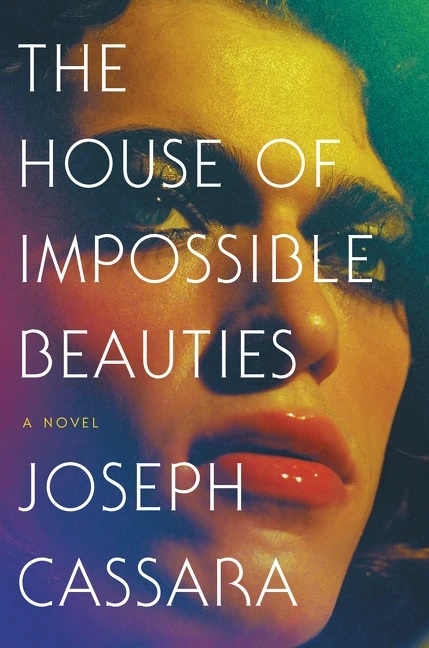 It's about the 1980s in New York City. About the look. The pose. The walk, walk, walk, walk, walk, honey! Angel is building the House of Xtravaganza, the first Latinx house in the ballroom scene as she mothers other lost souls and runaways. Her family turns tricks in the streets and turns heads at the balls, transforming an eked-out living into glittering royal realness with the love and support they have to offer one another. Times may be hard, but Cassara stitches an elegant, silky gown of a novel from a beauty so raw you'd be forgiven for thinking it was impossible.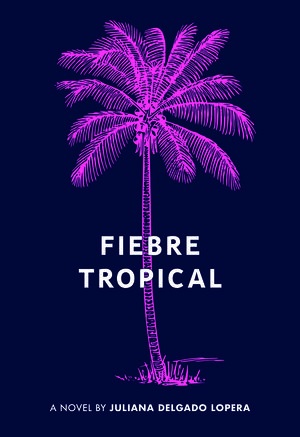 Fiebre Tropical, too, is an outstanding work of art. It's a nuanced tragicomedy about a Colombian teen with a sharp sense of humor as she develops a crush on the evangelical pastor's daughter, meanwhile managing her unhappy family in their new city of Miami. I adored every page.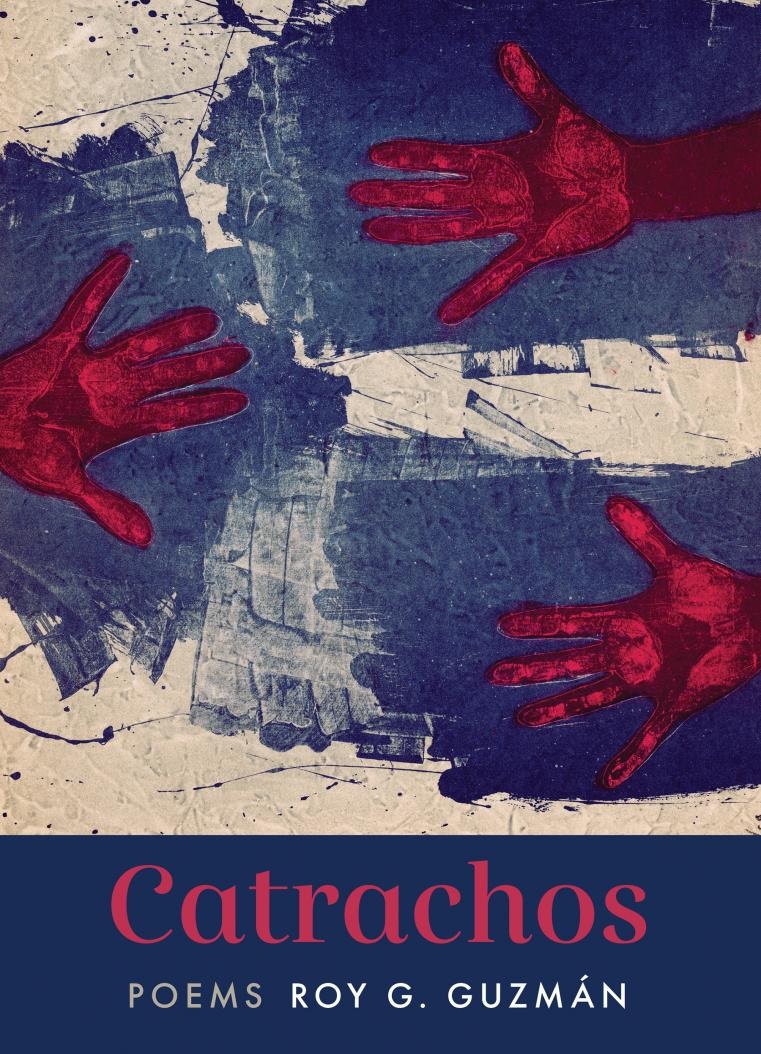 And to top off my recent reading of queer Latinx brilliance, the poems of Roy G. Guzmán in Catrachos (Graywolf, $16) have been especially gripping. The "Queerodactyl" cycle of poems that describe the poet as a kind of dinosaur contain such magnificent lines as, "Twerking in church,/ I outperformed the candles," and "After they locate & excavate your wing fossils,/ perseverance might be the trait you're known for."
Maybe you, like me, have been hearing good things about these writers. Now is a great time to eat every delicious word!

In this Issue...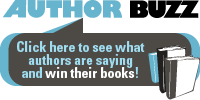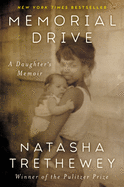 A former U.S. Poet Laureate remembers her mother, and wrestles with her brutal murder, in compelling and feeling style.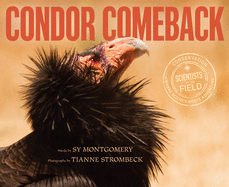 by Sy Montgomery , Tianne Strombeck, photographer
Sibert Medalist Sy Montgomery embeds herself in the remarkable world of California condor conservation as part of the Scientists in the Field series.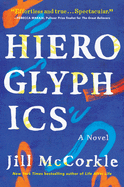 This novel is a quiet yet revelatory exploration of how people persist in the face of tragic loss.
Review by Subjects:
Fiction ⋅ Mystery & Thriller ⋅ Science Fiction & Fantasy ⋅ Biography & Memoir ⋅ Children's & Young Adult

Great Reads
Rediscover: Every Frenchman Has One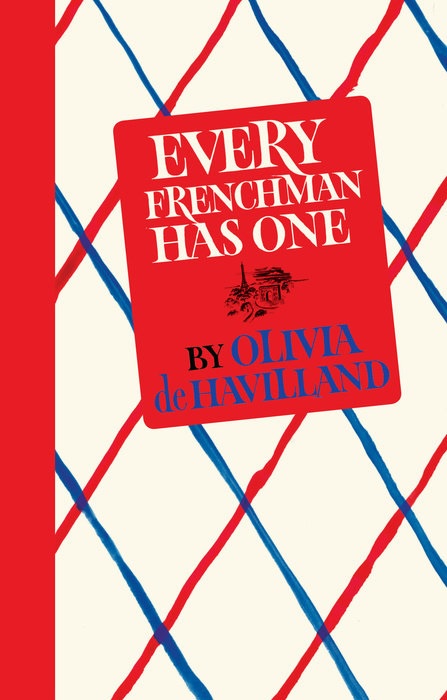 Olivia de Havilland, one of the last surviving actors from Hollywood's Golden Age, died on Sunday, July 26, at age 104, in Paris, France, where she had lived for more than 60 years.
Feisty, graceful, friendly, funny and seemingly ageless, de Havilland is best remembered for her roles in a range of films. She made nine movies with Errol Flynn and was nominated for five Oscars. The two she won were for To Each His Own (1946) and The Heiress (1949). Her other nominations came for Hold Back the Dawn (1941), The Snake Pit (1948) and Gone with the Wind (1939). Other films included The Adventures of Robin Hood and They Died with their Boots On.
In her memoir, Every Frenchman Has One, originally published in 1962, she focused on her sometimes bumpy adaptation to French customs, culture and the language after she married a Frenchman and moved to Paris. Ultimately she was very happy in her new home. Paraphrasing Caesar on Gaul, she said, "I came. I saw. I was conquered."
And even in 1962, when she was only 46, she imagined people thought she was long dead, writing, "And so, when I wonder if you know that I live in France, I'm sure you don't, because I am certain that you think me peacefully interred, and in good old native American soil. If that's the case, you're in for a surprise. By golly, I'm alive, all right, and I do live in France, and not under but on top of solid Parisian limestone."
Every Frenchman Has One was reissued in 2016, when de Havilland turned 100, with a new interview with the author. The book is available from Crown Archetype ($16).
The Writer's Life
Natasha Trethewey: The Lens of That Burning Question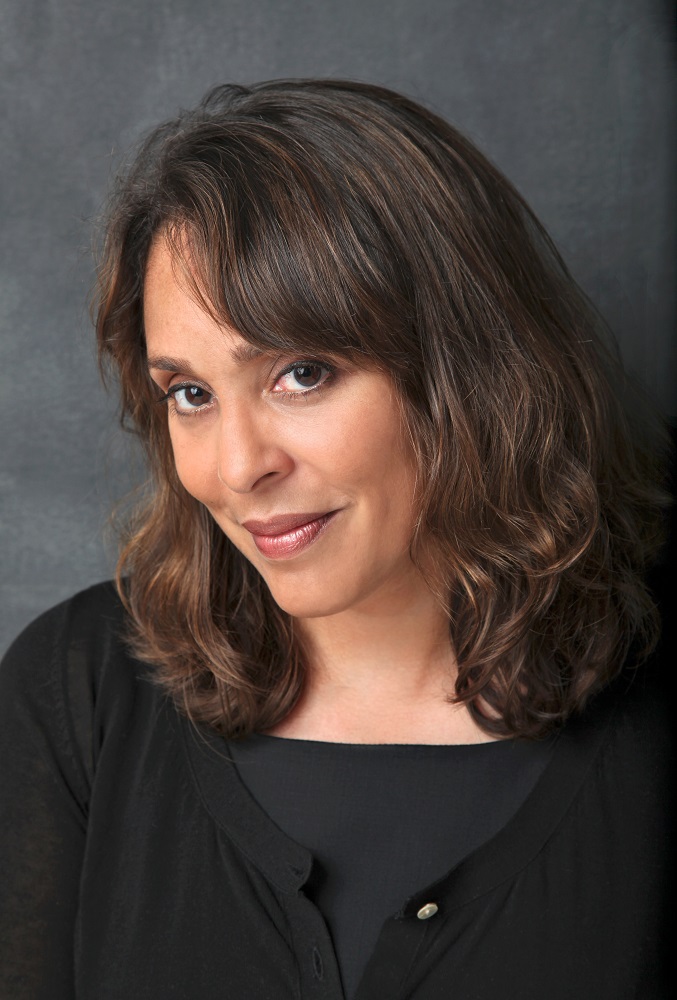 photo: Nancy Crampton
Natasha Trethewey is a former two-term United States Poet Laureate and the author of five collections of poetry. She is currently the Board of Trustees Professor of English at Northwestern University. In 2007, she won the Pulitzer Prize in Poetry for her collection Native Guard. Memorial Drive (out today from Ecco/HarperCollins) is her second book of creative nonfiction.
Is this the book you thought you were writing when you began the project?
Not at all. When I first said that I needed to do it, it was after I had begun to get a lot of press about me as a writer, after the Pulitzer and after being named U.S. Poet Laureate. Because of that, there were many newspaper stories or profiles in which my mother was mentioned as sort of an afterthought, the backstory. She was basically summed up in a line as this victim to whom this terrible thing had happened, and it really bothered me. I decided that if that tragedy was going to be part of the backstory that was recorded again and again, then I wanted to be the person to write her story, so she would not be simply reduced to a murdered woman. What I wanted to do was to show how important she was, her life, my time with her, her death, and my becoming who I am and becoming a writer. I thought one of the ways to do that was to tell the story of who she was, and I imagined it as more like a sort of biography of her. I would have researched her the way I have researched historical figures I wrote about in poems.
It didn't work out that way. Instead, I think probably the moment that I looked at Shakespeare's Sonnet 3, those lines I used--"Thou art thy mother's glass, and she in thee/ Calls back the lovely April of her prime"--I knew that I was the biography, in many ways. That what she was able to make in me was one of the best records of who she was, and how remarkable and resilient she was.
How did you choose this title? Not person, action, relationship, but place--with obvious allusion to memory/memorializing.
You hit the nail on the head. As a writer I think one of my enduring projects is the drive toward memory and memorialization, and contending with the contentions and overlaps between personal memory and cultural or historical memory, what gets recorded and what gets left out of the record. So I knew that that was my project, because that's what I was trying to do in Native Guard, that's what I was trying to do in Domestic Work, is record part of my community, where I grew up in Mississippi, that was disappearing. These old people were dying, and it took me a long time to make that connection, that my mother had literally died on Memorial Drive in the shadow of the largest monument to the Confederacy. And that symbolically had something to do with my drive to memory and memorialization, and insisting that things that often get left out and forgotten are remembered.
It must have been painful in some ways to reenter this trauma. Was it worth it?
Oh, yeah. I mean, it was really difficult, and even now I find that having to talk about her and the book in this way keeps the grief that usually is farther away right up on the surface. So I'm living with it differently now than I usually do. But one of the things that I will never forget is when I first met Dan Halpern, who is my editor, and he had read just a few paragraphs of a scene that I had written when I was proposing the book, and he said to me that he fell in love with her just from that. And I thought, if that's what can happen then, yeah, it's worth it. She'll be remembered. She'll be known by people. And at least they'll know what she meant to me. That's a way of knowing her, too.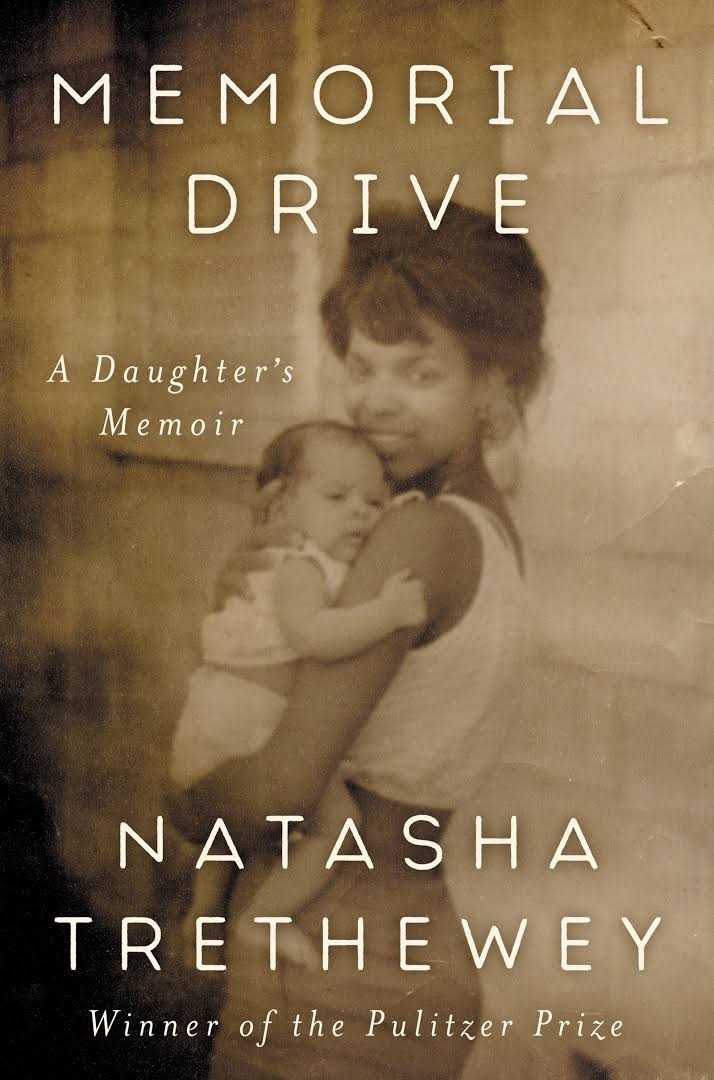 When you write a book like this, or in general: Do you write with an audience in mind, or for yourself first?
That's an interesting question that I hadn't thought about as related to this book. I think I might answer differently if I were thinking about poetry. Or maybe not. Because I was writing in response to what I told you about at the beginning, the newspaper articles that just recorded her as victim or murdered woman, I really was always having an audience in mind. Someone that I had to say oh, no, no, no--this is who she was, too. But at the same time, I think I must have been writing to myself, because of the things that I learned in the process. I knew many different things by the time I got to the end than when I started. I began to understand more things that I had willfully erased, things that were driving me internally on a subconscious level but that I hadn't allowed myself to think about consciously. And so in that way, I was revealing myself to myself. Which is of course why for me that other epigraph comes in: "All journeys have secret destinations of which the traveler is unaware." I didn't know where I was headed.
And maybe that's the problem in the question, because how could you ever not be writing for yourself?
Right, but it's a good question, because it makes you think about the not competing, but the multitude of motivations for writing a book project like this.
How different is the writing of prose versus poetry?
On the most basic level, the silly level, it has always been harder for me to write more. I've always been better at writing less. Give me an assignment in a class to write a seven-page paper--somehow I'm not going to be able to get to that. Poems are so much smaller and more compressed; that just seems my natural inclination. But I think that I write prose like that. I imagine there was so much more that could have been in this book and part of this story, but it sort of crystallizes around one or two threads. For me it felt like a very long extended poem that had to do some of the things that I want a poem to do, as it moves, as it turns to certain motifs, certain images, certain words.
Turning to poetry--does a book like Native Guard begin as a project, where there's a book idea and then it is filled with poems? Or do you write poems and then realize you have a book?
I almost always begin with a problem, some historical question that I want to ask myself, I want to ask the nation. I want to examine and explore from many different angles. When I am focused on something like that, it's as if I could look at anything and it will somehow be filtered through the lens of that burning question that I've been asking myself.
When my students are worried about what they're going to write about or whether the poems that they're writing will somehow hold together, I talk to them about their obsessions, the things that we can't get away from, that have an impact on how we see the world and the things in it. If you trust that, that's what will come through in your poems, and your poems will hang together more than simply because you're the person that wrote them. You're the vision behind them.
What are you working on next?
This book took a lot out of me, and so I'm in a place of trying to fill back up. There are things that I'm interested in, so I'm reading. It has a lot to do with my home state, and cross-mapping memory and memorialization, with Confederate monuments, sites of lynchings, which sort of engrave white supremacy on the landscape. I know that's what I'm thinking about, so I know that I won't be able to look at a tree without thinking about it. --Julia Kastner, librarian and blogger at pagesofjulia
Book Reviews
Fiction

Algonquin Books, $26.95, hardcover, 320p., 9781616209728
Putnam, $27, hardcover, 432p., 9780525539209
One World, $26, hardcover, 224p., 9781984855831
Park Row, $17.99, paperback, 416p., 9780778308744
Blackstone Publishing, $24.99, hardcover, 9781982639648
Farrar, Straus and Giroux, $26, hardcover, 224p., 9780374102098
Harper Perennial, $15.99, paperback, 192p., 9780062979520
Mystery & Thriller
Berkley, $26, hardcover, 400p., 9780451491756
Science Fiction & Fantasy
Tor, $17.99, paperback, 304p., 9781250168214
Biography & Memoir

Ecco, $27.99, hardcover, 224p., 9780062248572
Children's & Young Adult

Houghton Mifflin Harcourt, $18.99, hardcover, 96p., ages 10-12, 9780544816534
Holt, $13.99, hardcover, 144p., ages 6-9, 9781250217837
--- SPECIAL ADVERTORIAL OFFERINGS ---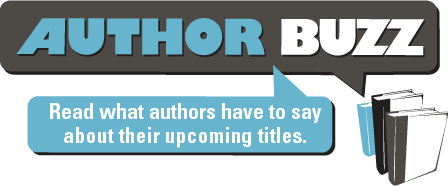 Dear Reader,

I could never have anticipated how A Good Neighborhood's themes would resonate with the strange year that was 2020. Divisions among neighbors. Heightened racial and environmental issues. Struggles for young adults in this troubled country. But the story didn't foresee all of that; it reflected a history of it. Really, it's a modern fable about mostly well-intentioned people caught up in difficult situations--a timeless, cautionary tale of love and power that asks big questions about life today.

Theres Anne Fowler
https://thereseannefowler.wordpress.com

Email trademarketing@stmartins.com with subject "A Good Neighborhood Sweepstakes" to win one of five copies.




Publisher:
St. Martin's Griffin

Pub Date:
March 2, 2021

ISBN:
9781620064337

List Price:
$16.99

Dear Reader,

It's the week before Halloween and teashop owner Theodosia Browning and her tea sommelier Drayton attend a "literary themed" haunted house in a dilapidated mansion known as the Gray Ghost. But halfway through their visit, the guest author is found twisting from a third floor window as purple lights cast flickering images. The police and Theodosia's boyfriend Detective Riley come screaming in, but when Riley goes to the dead girl's house, he's shot! A murder and a shooting seem too coincidental for Theodosia who throws herself into her own shadow investigation. With pacing, plot twists, and action reminiscent of a thriller (this is a thrillzy!), it's no wonder Book Riot named Laura Child's Tea Shop Mysteries to their list of "25 of the All Time Best Cozy Mystery Series."

This is one of my most action-packed mysteries yet! --Laura Childs
www.laurachilds.com




Publisher:
Berkley Books

Pub Date:
March 2, 2021

ISBN:
9780451489692

List Price:
$26.00
---